"Europe needs a new approach to wind auctions, with a focus on local technology"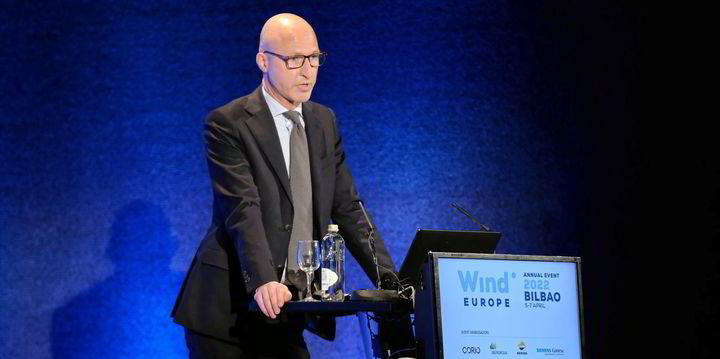 In the wake of Russia's attack on Ukraine, Europe needs a new approach to wind auctions to meet recently tightened wind energy targets, which not only includes a speeding up of permitting processes , but also guarantees that additional capacity will be built with local wind technology, according to WindEurope President Sven Utermöhlen.
"Accelerating permitting alone will not guarantee that we realize wind projects with European technology," he said during the opening session of the annual exhibition and conference. from WindEurope in Bilbao. Utermöhlen is also managing director of offshore wind at RWE Renewables.
"Energy security requires more local wind power, with technology developed and 'made in Europe'. This will require a new approach to wind auctions.
Deciding winners in tenders on the basis of price criteria alone is no longer the right solution, added Utermöhlen.
"We need auctions that reward the added value that the European wind industry brings in terms of sustainability, system integration and the strengthening and resilience of our economies."
The war in Ukraine has prompted Europe to rethink its approach to energy with a focus on drastically reducing its dependence on fossil fuel imports, Utermöhlen added, but warned that the EU currently only builds less than half of what is needed to achieve its goal. reinforced target (from the REPowerEU plan) of 480 GW of wind capacity by 2030 (compared to around 190 GW today).
The article continues below the ad
At the same time, the supply chain faces disruption and the industry faces higher and more uncertain costs, both due to rising raw material and component prices, Utermöhlen warned. .
"This threatens established business cases and business arguments and established business standards in the industry."
Juan Diego Diaz, president of the Spanish wind energy association AEE, also pushed for a change in the design of the auctions during the opening session. He pointed out that new EU state aid rules allow member countries to design auctions with 30% of the allocation weight awarded on criteria other than price.
"We must achieve the best added value for technology and maintain our industrial capacity," he said.
While calling for a change in auction design with less focus on prices and more support for the European wind sector, Utermöhlen rejected calls from some EU governments for immediate changes in the way electricity are fixed in the wholesale markets in order to cope with high energy prices. .
"We need a market design that sends the right investment signals to achieve climate neutrality and ensure energy security for all Europeans," Utermöhlen said.
"This requires adapting the current regulations taking into account the impact of the war. Abrupt and uncoordinated changes would hurt investment just when we need it more than ever.
Ditte Juul Jorgensen, director-general for energy at the European Commission, agreed the war underscored the bloc's ambitious renewable energy goals and that developing alternatives to fossil fuels was more urgent than ever. .
"We in the European Union cannot and will not remain dependent on Russian fossil fuels," she said during the opening session. "We must take charge of our own energy future and never again let a third country destabilize our energy markets or influence our energy choices.
"To reduce our dependence on imports from Russia, we need to increase our European energy production to become more resilient to fossil fuel price volatility.
"We need to invest ever faster in cheaper and cleaner sources of energy closer to home."
Wind power already accounts for 240,000 to 300,000 jobs in the EU, and the industry in 2018 had an annual turnover of €36 billion, she pointed out.