'Everything is energy': Europe's crisis is a lesson for Canada, says MPP Ross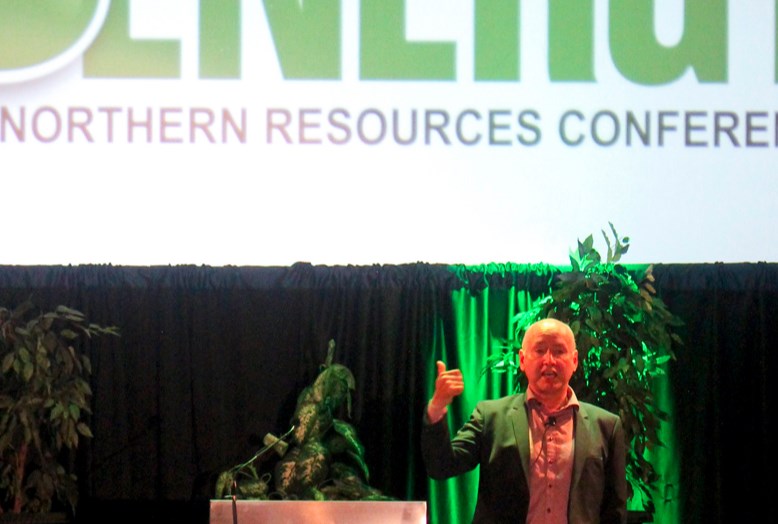 Canadians concerned about national energy security and First Nations self-determination cannot ignore the current story in Europe, a natural resources conference heard in Fort St. John last month.
Canadians concerned about national energy security and First Nations self-determination cannot ignore the current story in Europe, a natural resources conference heard in Fort St. John last month.
Ellis Ross, MP for Skeena, was one of the keynote speakers at the Chamber of Commerce's annual energy creation conference, where he spoke about Europe's energy dependence on Russia and drew parallels with his home community, the Haisla Nation, and his past reliance on the federal government in Ottawa.
"For too long we have gone down this ideological path that oil and gas is not necessary, that we would just put it aside and there would be no consequences. Germany has proven it wrong, 100% wrong," Ross told an audience of more than 100 local business leaders who gathered at the Lido Theater on June 23.
"Germany – a superpower, an economic powerhouse – is now dependent on a regime like Russia for energy, and now Germans are complaining that Russia is extorting natural gas from them for their energy needs.
"It's not extortion. It's addiction," he said.
Germany has started rationing hot water, dimming streetlights and closing swimming pools amid high gas prices and as Russia cuts the country's supply, according to the FinancialTimes. And the situation is expected to worsen with the continuation of the Russian-Ukrainian war, the Time reports, which adds that Germany, Europe's largest economy, is facing an energy crisis not seen since 1973.
"They had no choice, they had to go to Russia. Well, guess what Russia did…they're destabilizing Europe," Ross said. Nations have been trying to move away for at least 50 years. Being dependent on someone, having someone else controlling your life, is going to put you in a very difficult situation.
Ross said his Haisla community also once depended on the Indian Act for core funding from the federal government and then again through government grants to get funds for community projects. While the industrial town of Kitimat was among the wealthiest communities in Canada, he said his group just seven miles up the road was one of the poorest in British Columbia.
"Essentially you were begging for money," he said. "Do you want a youth center? We had to beg for money. Do you want to renovate your soccer field? You have to beg for money. At the same time, you try to contact the companies to see if they can also help you with donations.
After joining his Haisla board in 2003, Ross said he spent "eight years in the trenches" learning about natural resource development and using court case law to turn dependency into economic opportunity. It wasn't the province that came knocking on the door and looking to develop LNG, it was his group, he said.
"We started 2004 and lobbied the provincial government for seven years to partner with us. It wasn't until Christy Clark came in and said, yeah, we're going to do it," Ross said. "I'm very proud to say that now my band is one of the richest bands in British Columbia. We were no longer begging for money. We built a youth center with our own money, a senior center with our own money, repaired our football pitches with our own money," he said, listing a series of other investments that the Haisla have since achieved in housing and industry against the backdrop of an LNG industry coming to fruition in the North.
"We brought the word self-determination to life. We did not expect anyone to achieve reconciliation for us. We thought it was up to us as Indigenous leaders, and we did. We have a fully accountable chief and council planning for the future," he said. "The degree of pride in my community, you cannot measure it. Why? Because we are independent.
But while Christy Clark may have supported LNG, today's provincial and federal governments do not, Ross said. He said the LNG Canada project had only been approved for a fraction of its export potential and called the cancellation of Chevron's planned LNG project in Kitimat a "national tragedy."
As Europe worries about whether it will have enough gas to get through the coming winter, Ross worries that Canada is heading down the same path of energy insecurity.
"We can clench our fists all we want at the pump, but until we commit and until we get involved and fully understand what's going on, right now history is being made in Europe. , history is being made all over the world, and it's all about energy," he said. said.
"The demand we are seeing right now in India and China will continue to increase. Germany is going back to coal…they're trying to speed up the construction of a terminal to accept LNG in two years. Well, OK, that's great, but where are you going to get it from? You won't get it from Canada.
"Canada, no matter what you read in the paper, does not believe in LNG. BC does not believe in LNG," he said.
The country has also ignored provincial partners like Alberta, which have the resources and capacity to make the country energy independent, Ross said. He pointed to the rationing of gasoline sales in British Columbia and supply by barge from the United States after floods last year destroyed highways and cut off supplies to the Lower Mainland. He fears that the United States could completely cut off Canada's supply if a large-scale energy crisis were to occur in North America.
"Everything is energy. Inflation is going to be energy, combined with taxes, supply chain issues…but energy is at the heart of what we're facing today," he said, "and that's not going to happen. not improve because we don't have an energy policy that works for us.
Ross says Canadians will all pay the same price in the end — simple economic considerations pass on rising energy costs from the farmer and trucker to the consumer. He says that's why he's traveling the province warning British Columbians not to ignore the dire situation facing Europe.
"I like hospitals, schools, highways, cars, cell phones, computers, houses; I like them like everyone else. I don't want to see it disappear. It will be a few years before we feel the pain, but when the pain sets in it will be there for the long haul," he said. "And you know who is going to suffer the most? Our children. Our grandchildren are going to have to clean up all that political garbage that has helped put kids in the position they are in today. I can't sit back and watch this happen.
"I can't stand the thought of my kids or my grandkids leaving BC because it's such a hellish place to live – too many taxes, too much inflation, no opportunity, just because we We've never really looked at that word 'dependency', and in the context of what Germany is going through.
---
Do you have a story or an opinion to share? Email your letters to [email protected]