Sanctions threaten Russia as Europe moves closer to war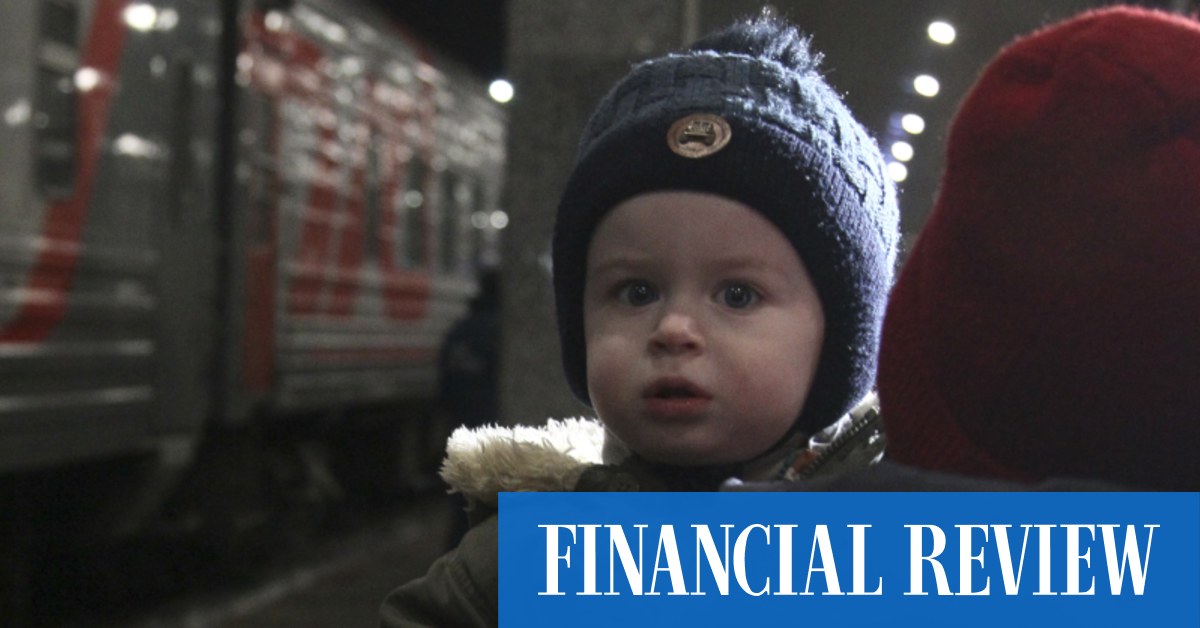 Tanks were seen in a column on the outskirts of the city of Donetsk and in another part of the city, according to a Reuters report. No badges were visible on the vehicles.
The spiraling slump wiped 1% off Australian stocks and rattled global markets, with fears of disruption to Russian gas supplies pushing the price of oil to just under $97 a barrel.
Goldman Sachs says the market has already priced a 5% discount on US stocks when its markets reopen after a holiday, with an additional discount in the event of an invasion.
"Severe economic measures" promised
After Putin's speech, US President Joe Biden spoke with Ukrainian President Volodymyr Zelenskyy and had a joint call with French President Emmanuel Macron and German Chancellor Olaf Scholz.
Mr Zelenskyy called for calm and accused Russia of derailing peace talks and ruled out territorial concessions, in an address to the nation.
"We are not afraid of anything or anyone. We don't owe anyone anything. And we won't give anything to anyone," Mr. Zelenskyy said.
At an emergency UN Security Council meeting in New York, US Ambassador Linda Thomas-Greenfield announced sanctions after Russia "offered the world a choice".
"We must meet the moment, and we must not look away. History tells us that looking the other way in the face of such hostility will be a much more costly route," she said.
"President Putin is testing our international system. He tests our resolve and sees how far he can push us all.
"We must make it clear that an attack on Ukraine is an attack on the sovereignty of every UN member state and on the UN Charter and will have swift and serious consequences."
Prime Minister Scott Morrison has pilloried Mr Putin's claims that the troops were playing a peacekeeping role, amid growing fears it was a prelude to a full-scale invasion.
"I can assure you that as other countries put in place strong and severe sanctions against Russia, we will be in step with them and we will move just as quickly," he said.
Australia has worked with other countries in recent weeks on a series of coordinated sanctions in response to Russian aggression.
Australia has ordered all its embassy staff to leave Ukraine immediately for Poland and Romania.
The White House has promised to take "swift and severe economic action" in the event of a Russian invasion, including cutting off its banks from global financial markets.
"Diplomacy Until the Tanks Roll"
Global talks were underway on when the threshold for tougher sanctions would be crossed, as well as the need for Western unity in the face of the reluctance of some European capitals to go too hard due to their dependence on supplies. in Russian gas.
A senior White House official said the trigger for tougher sanctions had yet to be hit because Russian troops had occupied Donbass since 2014.
"We will continue to pursue diplomacy until the tanks arrive, but we have no illusions about what is likely to happen next. And we are ready to react decisively when that happens," the official said. .
A spokesman for British Prime Minister Boris Johnson said: "The intelligence we are seeing suggests that Russia intends to launch an invasion and President Putin's plan has indeed already begun."
Australian efforts are likely to target Russian officials and oligarchs closely linked to Putin's regime under new laws passed last year as part of the global Magnitsky movement. These laws authorize travel bans and the freezing of assets, including cash.
While Russian business identities have relatively low exposure in Australia – especially compared to the UK, London being a notorious haven for Russian money – acting in concert with other countries would prevent Australia from becoming a safe haven. inadvertently safe.
The government is unlikely to target trade as it would have limited impact. Only $210 million of Russian imports entered Australia in 2020, with Australia enjoying a large trade surplus.
Separately, the United States introduced a limited set of sanctions in response to recognizing breakaway provinces, banning new U.S. investment and trade with them.
Putin calls sanctions 'blackmail'
Mr Putin ordered the Russian military to enter the Luhansk and Donetsk regions for "peacekeeping duties" on Monday evening (AEDT Tuesday), after signing a decree recognizing their independence.
His decision tears up the 2015 Minsk Accords that Russia negotiated with Ukraine, Germany and France, which recognize Ukrainian sovereignty over the Donbass territories. A violent conflict, encouraged by Moscow, has been brewing there for seven years.
In his televised address, Putin said the 4 million people living in the Donbass region were "victims of genocide", calling their situation a "tragedy".
He said Russia had waited "in vain" for the implementation of the Minsk agreements.
Mr Putin said the prospect of sanctions amounted to "blackmail" aimed at hampering Russia's development.
Russia's UN ambassador Vassily Nebenzia – who chaired the meeting under the rotating Security Council presidency – accused Ukraine of sabotaging the Minsk agreements, with the West "pushing" Kiev. He denied though that the deal was dead.
"We remain open to diplomacy for a diplomatic solution, but allowing further bloodshed in Donbass is something we have no intention of doing," he said.
In a powerful intervention, Kenya's representative to the UN, Martin Kimani, denounced Russia's aggression, noting that many African countries accepted their borders when they became independent from their former colonial rulers instead of "waging bloody wars" for decades later.
Soaring tensions erased a brief wave of optimism that came after Mr Macron's midnight telephone diplomacy on Sunday (AEDT Monday) appeared to have paved the way for a summit between Mr Putin and Mr Biden .
Russia began building its pretext for a military intervention in the early hours of Monday morning (late Monday AEDT), claiming a border skirmish had taken place.
The Russian army claimed to have killed five Ukrainian soldiers who were operating near its border in Lugansk and destroyed two armed vehicles which had been sent to rescue them.
Ukrainian government officials were quoted almost immediately as saying the claims were false, calling them "fake news."