Scott Morrison tells Europe and Australians to be careful not to create 'dependency with China' and backs coal-fired power stations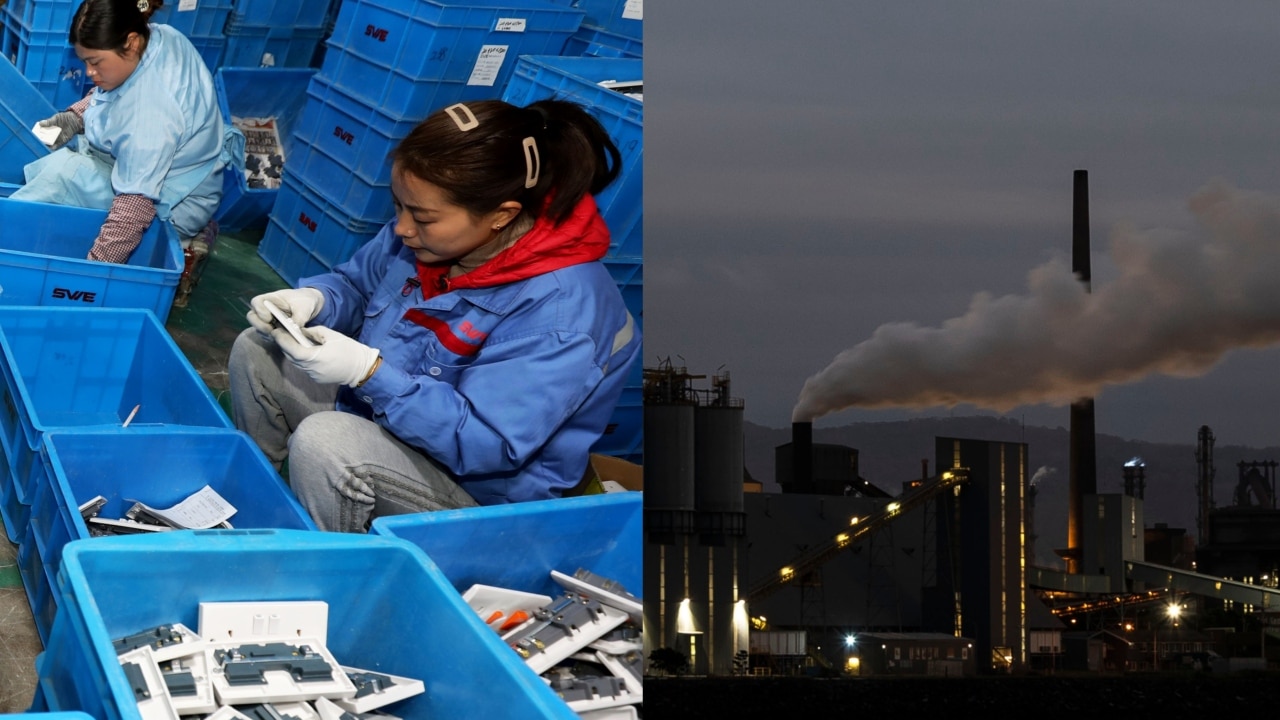 Scott Morrison has told Australians and businesses to 'not put all their eggs in one basket' by relying on cheap products from China and believes the country's coal-fired power plants should 'run as long as possible", because renewable energies are not reliable.
Scott Morrison urged Australians and businesses to "not put all their eggs in one basket" by relying on China for cheap goods and low-cost manufacturing.
The Prime Minister faced a crowd of voters on the NSW Central Coast for a special edition of Sky News Australia's Paul Murray Live program on Monday evening.
The show, titled The PM Pub Test, gave residents a chance to air their concerns ahead of the federal election, where he answered questions about China, coal-fired power plants, and took a swipe at Labor leader Anthony Albanese.
Deliver more live and on-demand political news with Flash, Australia's largest news service. New to Flash? Try 1 month free now
A voter questioned the reliance of Australia and other Western countries on China and expressed fears they could still access cheap goods and services despite the 'difficult' relationship observed throughout the pandemic.
Mr Morrison said Australia had not relied on China until a push in the past decade, but he fears its people and thousands of businesses are becoming too "dependent" on the country to lower business costs.
"It wasn't always like that, it really increased for most of the last decade. And that was welcome," he said.
"But at the same time, you have to be careful of a dependency that is created."
He warns Australians and Europeans that addiction could cause problems in the future, using the Netherlands as an example, amid the ongoing Ukrainian and Russian war.
"It's not just us who solved this problem," Mr Morrison said.
"It's the exact same conversation I had with the Dutch Prime Minister. They deal with this being too dependent on the Russians for oil and gas and a range of other things."
He noted that there was already a "global shift" of companies and individuals around the world looking for alternative partners to supply manufactured goods.
"What we see in the global economy is a big change going on and a lot of things that China has been producing for 10 or 20 years, they are now being produced in Vietnam and other parts of South Asia. Southeast," he said.
Mr Morrison pointed to the roller-coaster relationship he has with China, particularly when Beijing imposed an 80% tariff on as little as 200% on wine, after raising questions about the origins of COVID-19.
"We faced a lot of coercion from China. Our barely was targeted, our victory was targeted, many industries, our crawfish and other things like that," he said. he declares.
"But we held on and we resisted and it barely found other markets. Until the wine gets the same price, it's harder, they're going to be fine."
Mr Morrison added that his government had been building relationships with other countries, including becoming a dialogue partner with ASEAN, in hopes of boosting economic and security priorities in Southeast Asia.
"Supply chains are not just about cost and efficiency. They're about trust," he said.
"For Australian businesses, you have to think about the price, the risk of the supply chains you're in and depend on."
He was then asked by another voter about his stance on coal in the coal industry and whether his government would build coal-fired power plants as a reliable base load to "compete with the rest of the world".
Mr Morrison said the 'short answer was yes' but refrained from endorsing a call to build more coal-fired power stations.
"And the short answer to the question is yes (because) when it comes to our fossil fuel industry, especially coal, because it's going to be around for decades," he told the group of residents.
He believes there will be a surge in demand by the end of 2030 and that these were important regional communities, where most of the coal-fired power plants are, and his economy is buoyant.
"Until they are able to use technology like we can in this country, which allows us to harness other forms of power, they need it to grow their economy and they are not no more about to sacrifice their jobs than we are," Mr Morrison said.
The coalitions' plan is to run coal-fired power plants "as long as possible" to provide baseload power "when the wind isn't blowing and the submarine isn't glowing."
He pointed to his government's $600 million investment in the Kurri Kurri gas-fired power station which provides "standby" power and can easily be switched on and off.
Mr Morrison concluded his statements on coal by saying the industry is worth $35billion to the economy and 'this is money that Australia needs to grow and to make sure we we can pay for the essential services that Australians rely on."