Tusk urges Hungarians to vote against 'Europe's most pro-Putin government' at rally in Budapest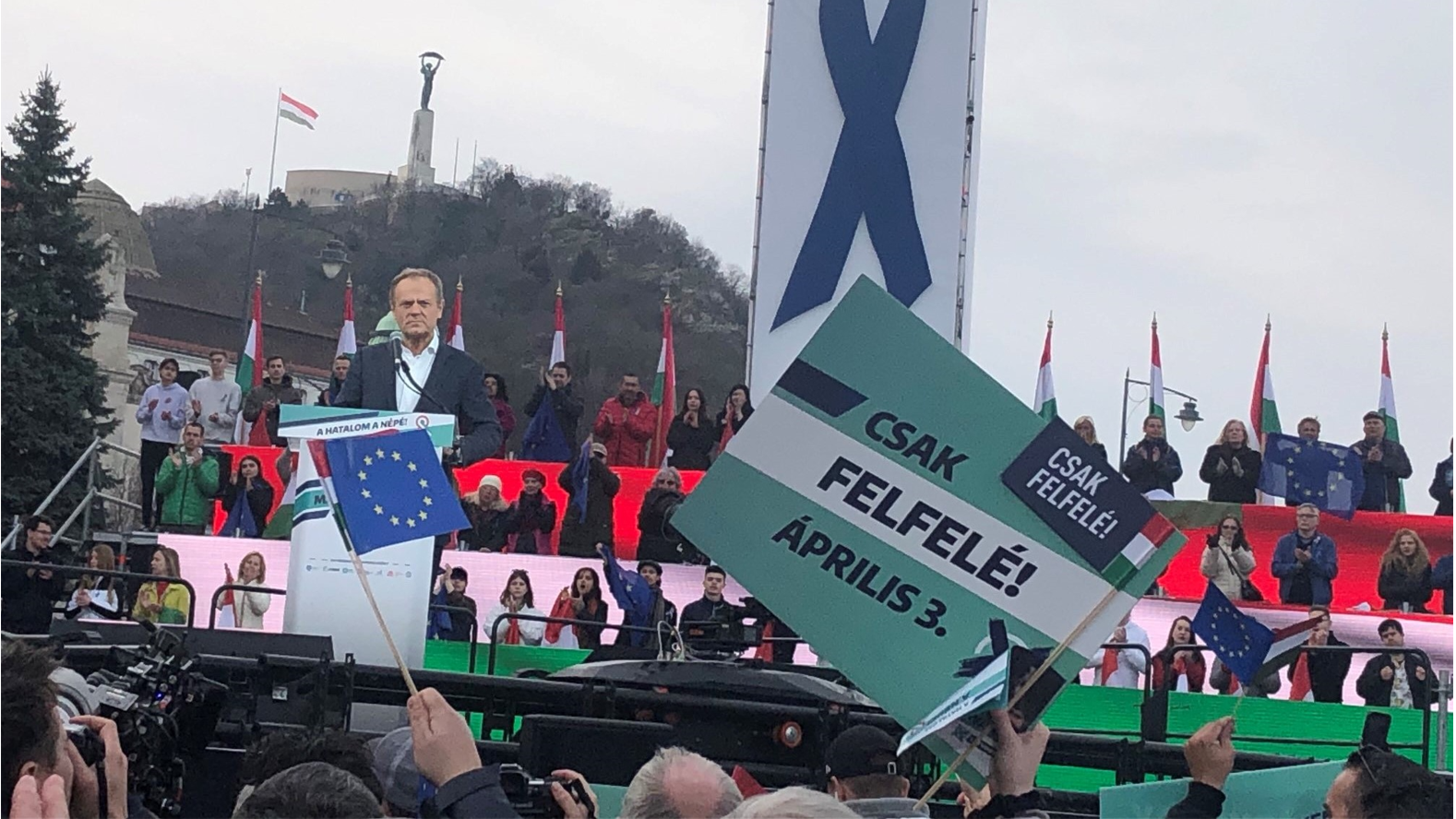 Polish opposition leader Donald Tusk spoke today at a rally in Budapest organized by the Hungarian opposition ahead of parliamentary elections in three weeks.
Tusk condemned Hungarian Prime Minister Viktor Orbán's ties to Vladimir Putin and compared the war in Ukraine to the struggle for democracy in Poland and Hungary.
The war against Russia "is not just a struggle for Ukrainian independence," Tusk said. "The stakes are even higher: it is also a war for our future, for Poland, Hungary and all of Europe."
"That's why these elections, your elections here in Hungary are so important for you, but also for all of Europe and for the dreams of Ukrainians," he continued, quoted by the 300Polityka news agency.
Orbán has given Hungary a reputation for having "the most pro-Putin government in Europe", added Tusk, who in addition to being the leader of the Polish Civic Platform (PO) party is also chairman of the European People's Party (EPP), which Hungary's ruling party, Fidesz, was a member of until last year.
Putin's vision is "of an authoritarian state with censorship, a corrupt state, a state that worships power, not the rule of law," Tusk said. This point of view is "shared by some European politicians, unfortunately also here in Budapest".
"Today we have to say very loud and clear in Budapest, Warsaw, Paris, Brussels: we don't want Putin in Ukraine, we don't want Putin in Europe," he said, quoted by RMF24. . "That's why Europe looks to you with so much hope: you are the hope of the free world in the key elections in Hungary."
"Ukrainians must fight for a free, independent, law-abiding and democratic state with arms in hand; we have to fight for our freedom, for our rights, for democracy, for freedom of speech with the ballot in hand," Tusk added.
Thousands of demonstrators and not bad #Ukraine flags at the opposition rally in Budapest today. Russia's war in Ukraine and Prime Minister Orbán's ties to #Putin the main subject of the speeches so far. 1 minute of silence for the Ukrainian victims of the war. pic.twitter.com/2Vp2V1PWzE

— Justin Spike (@jspikebudapest) March 15, 2022
Earlier in the day, Tusk had met Péter Márki-Zay, the common opposition candidate against Orbán in the April 3 legislative elections. Tusk expressed the hope that the alliance led by Márki-Zay will in future become a political party that can join the EPP.
After the meeting, the leader of the Polish opposition also compared the situation in their two countries, saying that their governments have undermined the rule of law, democracy and freedom of the media. "All this connects the Hungarian opposition and the opposition in Poland," he said. "We will cooperate."
Orbán's Fidesz and Poland's national-conservative Law and Justice (PiS) party have long had close ties. The two have supported each other in their regular clashes with the European Union.
'It's good to be with friends', says Polish PM after summit with Le Pen, Orbán and Abascal in Madrid
Over the past year, the PiS has also led efforts to forge an alliance between right-wing and far-right leaders in Europe, including Marine Le Pen and Matteo Salvini as well as Orbán.
In December, Tusk called the actions "treason," underscoring the pro-Russian stances of those leaders. A few months earlier, he had accused the Polish government of "implementing Putin's agenda".
The PiS has rejected these accusations, noting its own strongly anti-Russian stance and arguing that its alliance with the likes of Le Pen and Salvini allows it to encourage them to move away from the Kremlin.
He also accuses Tusk and other opposition figures in Poland of having close ties with European leaders who have done much more to help the Kremlin, for example through Germany's reliance on Russian gas.
Poland's ruling party guilty of 'treason' for hosting summit of pro-Russian parties, says Tusk
Main image credit: Zsuzsanna Szelenyi/Twitter
Daniel Tilles is editor-in-chief of Notes from Poland. He has written about Polish affairs for a wide range of publications, including Foreign Police, POLITICO Europe, EUobserver and Dziennik Gazeta Prawna.